Thank you for requesting a live demo to see first hand how our solutions may quickly resolve your production scheduling challenges.  We are more than willing to take the live demo a step further by customizing it with your own sample data. Our goal is to make the demo as meaningful as possible and do it quickly. In this way, you can end the live demo with some of your production challenges solved!  

We will be contacting you shortly to discuss your application and set up a time to meet.  In the meantime, feel free to send any samples of current data (schedules, orders, workcenters, etc.) that we can use to build prototype solutions.

We appreciate the opportunity to work together on possible solutions to your scheduling challenges.

Feel free to contact us directly anytime.
Many Thanks,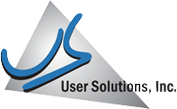 Jim Convis
Since 1991:  Manufacturing Software Made Easy!
Toll Free:  800.321.USER(8737)  Direct: 248.486.1934 Fax: 888.391.9076
jc@usersolutions.com   www.UserSolutions.com  Skype:  jim.convis