Dear [FIRST_NAME],

Thank you for your interest in our production scheduling offerings.

We offer a wide range of planning, scheduling, and tracking solutions to fit any application and budget. If you are not sure which offering is the best fit for your needs, please call US right away. In just a few minutes, we can direct you to the offering that most closely matches your budget and application requirements.

In addition, please note that we offer both generic live demos and customized  ones with sample data provided by you. This is the best way for you to see first hand how your production scheduling issues will be resolved. Please call (800) 321-8737 or email US@UserSolutions.com to schedule a  live demo and discuss our customizing it with your own sample data.

Our products enjoy a reputation for being the easiest, quickest and most affordable production scheduling solutions to get you where you need to go.

We look forward to helping you optimize your manufacturing operations.
Sincerely,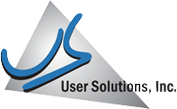 Jim Convis
Since 1991:  Manufacturing Software Made Easy!
Toll Free:  800.321.USER(8737)  Direct: 248.486.1934 Fax: 888.391.9076
jc@usersolutions.com   www.UserSolutions.com  Skype:  jim.convis